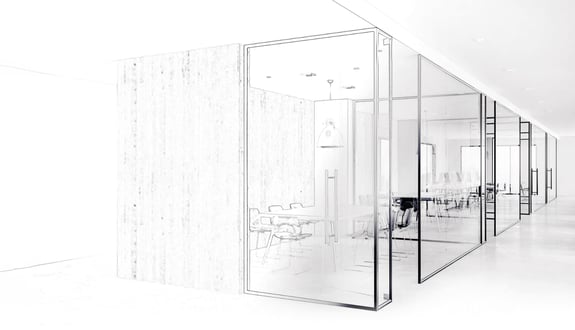 ABOUT US
John Sanati starts his first general contracting company alongside two other partners, with a
focus on the dental office speciality due to John's prior experience in fabricating millwork for medical practices.
John and his son Aras form Liberty Group LLC, a design-build construction firm with the goal of providing an all-in-one solution to small business owners in the healthcare industry with design and construction needs. The company quickly gained a reputation for building high-end offices for dentists wanting to open their own practice in the DMV area. Start-up dental practices quickly became the company's new speciality.

The Liberty Group team adds new consultants to the Project Success Team to expand into performing build-outs for a wide array of medical professionals beyond strictly dental. This year the company added to their project portfolio offices built for plastic surgeons, dermatologists and veterinarians, adding expertise and services for a full range of healthcare projects.
Construction starts with a concept.
And that concept should be an accurate reflection of a client's vision. In the dynamic and pervasive industry of healthcare construction, there are only a handful of contractors that can make the entire process for doctors and dentists a truly successful collaboration that prioritizes client satisfaction and peace of mind above all else. Liberty Group is proud to be one of them, holding this mission true from design to delivery. Our team provides owners of dental practices, surgical centers and vet clinics a complete package to turn their vision of building an efficient and successful business into a reality. Liberty Group has been a name synonymous with industry excellence for almost a decade.
TOUCH
Dr. Nadgie Ortiz - Smile Kids
Aldie, Virginia
Dr. Nadgie Ortiz - Smile Kids
Aldie, Virginia
Read More
Over 20 years of experience.
Founded in 2012 by the firm's President, John Sanati, Liberty Construction was created as a full-service contracting company that goes beyond the typical role of a quality builder. With his previous experience in commercial trade contracting companies, John already had a pedigree of expertise gained from his decades working with small business and private medical practice owners. "My goal was to provide clients the assistance they need as soon as they decide to start or expand their business," believes John, "and to help business owners in every step toward making their vision a reality." This started the all-inclusive design and construction services that Liberty Group is now proud to offer clients. The firm's experienced workforce of architects, engineers and interior designers are capable of developing concepts for potential customers the same week they contact Liberty Construction with their vision.
Adding value for medical growing medical practices.
John Sanati saw the value that busy, motivated doctors gained when you reduce time and stress from a project by offering one place for all design, construction, and consulting needs. Today, Liberty Group is a father-son owned and operated General Contractor headquartered in Rockville MD, servicing all of Maryland, Washington DC and Northern Virginia with a diverse team of in-house project managers and consultants. The dedication to quality work and reputation for on time delivery makes them a truly unique and valuable partner in every project.
TOUCH
John Sanati
President
Liberty Group President John Sanati is a licensed contractor in DC, MD and VA with over 40 years of experience in commercial construction and design. His early background in medical millwork is what led to the company's specialization in building healthcare practices today.
Read More
TOUCH
Aras Sanati
Director of Operations
As Director of Operations, Aras Sanati oversees every project to ensure that the clients' schedule and budget stays on track and that they are kept in the loop with crucial updates on their project.


Read More
Aras Sanati
Director of Operations
TOUCH
Robert G. Cassiano
Executive Vice President
Robert Cassiano, Executive Vice President, has been appointed the Healthcare Project Consultant title, where his 29 years of commercial banking experience with a specialty in start-up practice financing will contribute to Liberty Group's reputation as the premier builder for any new practice.
Read More
Robert G. Cassiano
Executive Vice President
Leadership with you every step of the way.
With numerous strengths that set them apart, one of the most obvious is the strong involvement by leadership in each and every project, from both John and his son, Aras Sanati. As Operations Director, Aras oversees every project to a precise degree and is always available to clients whenever needed. His main objective is ensuring that clients always have a direct line to Liberty Group's management, and this is crucial since no complex construction project goes from concept to completion without questions and revisions.
It is paramount that the doctor's needs and expectations are set as a priority and that their questions from all project stakeholders are answered swiftly so that when John Sanati hands over the key, the only thing on the client's mind is bringing their practice to life in the space Liberty Group built. Never in the company's history has a project been built where John himself was not heavily involved in consulting the client through every aspect of their buildout.
This starts at the very first meeting with the Owner, and includes everything from understanding their vision for their new practice, to making sure there is a set budget that allows the client to have the right type of space built to run the business successfully while still having the necessary capital left to hit the ground running when Liberty completes the project for the grand opening. As innovative design and engineering capabilities lead to new types of complex projects, Liberty Construction has onboarded new consultants to the client success team, including Robert Cassiano, VP of Healthcare Projects.
A commitment to communication.
At the very heart of each successful medical construction project undertaken by Liberty Group is our commitment to strong communication with all parties involved.
Our team's standard for transparency and planning is something our clients have told us makes them feel very confident as the project reaches turnover, which in turn builds a level of trust that removes stress and accelerates the entire process. This means ownership being hands-on from the minute a client contacts us, and this extends to our staff as well.
Members of Liberty's project teams are very quick to adapt to the company's ideology that any client that puts trust in us to build the structure for their next dental practice, surgical center or veterinary clinic has to be kept consistently in the loop on where their project stands. In fact, Liberty Group's philosophy is that high-end design and construction can only be coordinated and completed in a fast and error-free manner if all parties are communicating and cooperating from day one.
TOUCH
Dr. Nadgie Ortiz - Smile Kids
Aldie, Virginia
Dr. Nadgie Ortiz - Smile Kids
Aldie, Virginia
Read More
Mailing Address
Maryland Office
330 N. Stonestreet Ave.,
Suite E,
Rockville, MD 20850