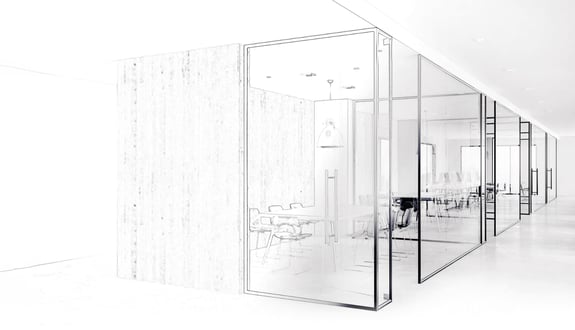 Dental and Medical Construction
Our experienced and top-notch medical space planners and consultants are up-to-date with the latest codes and regulations, and our innovative design team will analyze your practice's unique floor plan to discover out-of-the-box solutions that will keep you on the cutting edge of technology, functionality and design.
Medical spaces need to strike a balance between functionality, accessibility, and aesthetic appeal. After all, these buildings need to feel like more than just a medical facility; they need to approximate the comfort and ease of a home so the patient feels welcomed and that they are a priority.
Coordination between the contractor and medical equipment reps is another crucial component in designing and building a successful medical practice. Lastly, compliance with codes set by the county's health care department reviewers is one more layer of complexity that makes healthcare construction a niche specialty that Liberty Group is proud to hold a reputation of expertise for.
What Sets Our Process Apart from Other Construction Firms?
In recent years, the construction industry has become increasingly diversified and specialized, making it more difficult for owners to find contractors that are equipped to handle the entire process from design to grand opening. What sets Liberty Group apart is that we are equal parts designer, architect, and builder for medical office build-outs.We prioritize the importance of ensuring success for our client's business, and focus on collaboration to reach this goal.
Our team believes that the construction process is one that hinges on adaptability and understanding the vision of our clients.
First comes the design concept, then it's striking the balance between budget, schedule and value engineering to get the most out of the design, and the rest is filling in the details.
When it's time for construction to start, we have to remain flexible and adapt to new challenges and changes to the needs of our clients. It is this adaptability and resourcefulness that has helped build our name as one of the premier medical office commercial builders in Maryland, Virginia and Washington DC.
TOUCH
Dr. Shervin Naderi, The Naderi Center, Plastic Surgery and Dermatology
Dr. Shervin Naderi, The Naderi Center, Plastic Surgery and Dermatology
Read More
Balancing Form & Function
Treatment rooms and corridors need to be ample enough to accommodate cabinetry and storage space without feeling confined. Waiting rooms and common areas have to be designed to create a seamless experience for both patients and staff to feel properly accommodated and provide a seamless transition to other areas of the facility.
Third party installers such as the medical equipment reps and IT firms need to also have their say in the design process so that all the equipment and furnishings are taken into account.
What we do is take into account all these elements and more, while also considering the human angle. Our job is to negotiate between the functionality medical buildings need and the elements of design that create a space that doesn't have the "clinical" feel that so many patients dread. In the end, medicine is a human endeavor, so the medical office construction needs to feel as ergonomic as possible.
Attaining the Right Feel
While our specialty grew from our reputation at building successful dental offices in Washington DC, Liberty Group has grown to now include in-house design and consulting services so that every medical project gets designed to incorporate the unique vision of every client we have the opportunity of serving.
Some of the design elements we implement early in the process are fundamental to get the most out of a space.
We emphasize to doctors and dentists the importance of openness and control of light and sun in storefront practices. Creating a natural flow of the space from where a patient first enters, and conveying a feeling from this point that is welcoming will maximize the efficiency of any location.
These principles lend themselves well to all branches of medical construction, because of the dense foot-traffic patterns in these buildings. Dentists, Veterinarians, Dermatologists and Surgeons all need to invest in proper space planning and interior design so their space is not only unique, but is equipped to serve the needs of both patients and staff.
Liberty Group aims to build spaces that prioritizes patient experience, overcoming the clinic aesthetic and pushing the boundary so that patients do not feel confined, but rather welcomed and comforted.
Unmatched Execution
Our decades of experience in healthcare contracting and wide network of connections to design experts have allowed us to put together a team that shares our values and attention to detail. For Liberty Group, execution and craftsmanship are just as important as planning and design.
Our promise to clients is that we know well the importance of meeting your target grand opening date to see patients, and that your timeline, budget and design vision all need to be looked at carefully when putting all the pieces of your project together to make sure its a seamless journey to reach the point of handing over the keys of your new practice.
Our field team includes project managers, superintendents and subcontractors who all share experience in the specialty of medical construction, to ensure that your project is free from unforeseen issues or stress.
From master electricians who understand medical-grade wiring and connections to your expensive equipment, to seasoned carpenters that do not skip a step in building beautiful medical cabinetry, our subs share Liberty Group's goal in sparing no expense when it comes to quality craftsmanship. When a patient walks into an office built by Liberty Group, we want the quality of every element of the space to match the type of care they will receive.
Are You a Practice Owner Searching for a Trusted Medical Office Commercial Builder in DC, MD or VA?
You've come to the right place. Liberty Group Construction takes pride in our craft, and we offer comprehensive services that will have you covered from design to construction. If you are ready to come on this journey with us, give us a call today!